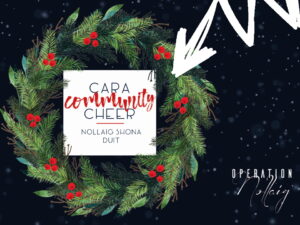 Write your first Christmas card to a stranger…
The Liverpool Irish community has within it isolated members, who -particularly in lockdown- have few contacts or digital interactivity to rely on. Help us let them know they are being thought about this festive season by sending them a Christmas card using our CARA service. We have almost 1,000 addresses on our list and our aim is to get a card to everyone of them.

For some individuals, your card may be the only card they get.
To see how we are getting along you can follow the count down (below, left). We'll keep the barometer below updated as we send batches of cards out.
It's easy
Using one of your Christmas cards, write "Dear" and leave the name blank.


Write a positive festive message and sign off as you ordinarily would or a way you feel most comfortable. We just ask you not to include contact details.

Please don't seal the card envelope, but do put a stamp on it (second class is welcome).

Put this into another envelope and post it to us at:
          c/o Community Christmas Cards. Irish Community Care. 121 Dale Street, Liverpool L2 2AH.

We'll add their first name to the card and a community message insert, then address it and mail it on to adorn someone's mantle for Yule. The deadline for posting your cards to us to process ahead of the holiday is Sat 12 Dec 2020.
Decorative ideas
Kids could decorate the card however they like, but to provide a little help, you can use one of our card inserts to help guide them in the activity. Add festive greetings messages and personalise your card, but please don't include any address or contact details.
We are in the process of developing more templates for card inserts, plus cut and colour kits for kids. Two sheets are already available here: Baubles / Trees. Cut out the shapes and stick them in your card. More of these will follow.
You can also click this link for free online resources that you could use to add to your card. To print off and cut out label templates you could use in the middle of your card (English only), click here to download Belvedere Design Templates (a free online resource).
In the meantime, feel free to go freeform with personal messages, illustrations, poems or a simple: "Dear… Thinking of you this Christmas. Stay safe. Kindest regards, Emma, Kathleen and Carl" (or whoever makes up your family!). Other festival lines you could include (in English/Gaelic):
Happy Yuletide to you and yours/Yuletide sona duit féin agus leatsa
A little note to say 'your community thinks of you'/Nóta beag le rá 'smaoiníonn do phobal ort'
Wishing you a peaceful Christmas/Ar mian leat Nollaig shíochánta
Even dark years have bright stars. We hope this brings you a little light/Tá réaltaí geala ag fiú blianta dorcha. Tá súil againn go dtabharfaidh sé seo solas beag duit
Wishing you a warm and restful Christmas/Ar mian leat Nollaig te agus suaimhneach duit
Happy holidays!/Laethanta saoire sona duit!
Cheers to you. We hope you have a merry time/Cheers duit. Tá súil againn go mbeidh am sona agat..
Thank you! We really think this will brighten many homes this holiday.
#OperationNollaig
#OperationNollaig (#OperationChristmas in Gaelic) is a combined project, run by CARA members (more info here), with funded support from the Irish Government's Christmas Fund. CARA is a network of Irish led service providers working across the North West to prevent isolation and promote better wellbeing during Covid-19.
Follow #OperationNollaig on social media to find out more.