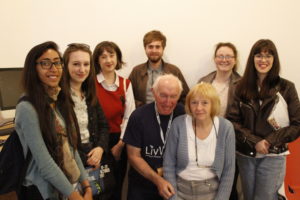 Liverpool Irish Festival is proud to work with volunteers. Our volunteers help us talk about the Festival; provide audiences with great experiences and help us to collect information. In a practical way, they help our venues deliver a wide variety of activities and shows, ensuring each is of great quality and enjoyable.
If the idea of joining our volunteer team appeals to you, read our Volunteer Pack.
Deadline extension
We're not recruiting for front-of-house volunteers right now, but will open up recruitment in August/September time. NB – This has not been changed in the volunteer pack which references the orginal closing deadline of 26 Sept 2022, which will be updated when we reopen in 2023. After the new deadline, we'll issue reference checks, before contacting and bringing recruited volunteers together ahead of this year's festival. Thank you in advance.
Festival volunteers
Our Festival volunteer cohort, help us to deliverthe Festiavl programme. You will attend events at agreed times to help set up ahead of our audience joining us; as well as meeting our artists and venue partners and meeting and greeting audiences. You'll help us to gather infomation and pack events down. This is a public-facing role. You can find out more about it in our Volunteer Pack.
Volunteers whose references reply positively will be invited to a preliminary orienteering session. At this meeting, you'll hear about the programme, pick up a volunteer pack and select your shifts. This will be arranged with you nearer to the time and will take place in Liverpool.
The Volunteer Pack
Our Volunteer Pack contains all you need to know (initially, at least!) about volunteering with us and it contains a link to a short, online application form.
How to apply
We have an online form for applications. The link is accessed via the Volunteer Pack. It mainly consists of checkbox selections or short, quick text answers.
The application form is arranged in clear sections. Initially it takes you through eligibility questions, so that if you are ineligible, we don't waste your time collecting details we will not be able to use. Then we require:
your contact details
an emergency contact
a bit on why you want to volunteer with the Liverpool Irish Festival and how you found out about the opportunity
your medical history (only aspects that may affect your ability to perform volunteer duties)
equality and equity monitoring
two referees you will allow us to approach.
Monitoring questions about gender, ethnicity, nationality and age are important for us to collect, aggregate and share to demonstrate how we work equitably with our communities or spot groups we are missing. Such sections are not used as part of your recruitment; but collectively they build evidence about our working practices. Please complete as much as you can. You will not be able to move on to the next question unless an answer is complete. 'Prefer not to say' answers are provided and are valid.
We have tried to make this as easy to complete as possible.
You are not able to access the application form, unless you open and scoll through the PDF.

---