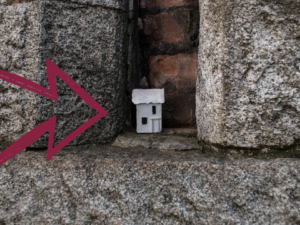 Pamela's work focusses on 'The Forgotten'.
Keep your eyes peeled at Festival venues -and across the Liverpool Irish Famine Trail– to find Pamela's work. Though diminutive in scale, the impact is monumental. Her transported spaces imply abandonment and displacement. When you see them, think about how they make you feel. How do they relate to world and what you can do to protect them? You might consider the work's isolation, vulnerability and endangered status; do these former homes remind you of people and the way they can be cast from countries by forces quite out of their control? How do you help? What is your role? Pamela's work asks all these questions and many more besides.
Pamela Sullivan
Pamela Sullivan is a professional artist, living and working in the Liverpool City Region. During her graduate show at Liverpool Hope University in 1998 she was awarded the Liverpool Women's Hospital Purchase Prize for most promising newcomer. Later, she was also awarded a Hillsborough Memorial Trust bursary that allowed her to pursue a professional career in the arts.
Family
Her family heritage is, like so many of the Irish diaspora in Liverpool, full of grey areas and missing family lines; family secrets and things that were just not talked about. Indeed, the family name 'Sullivan' was thrown into question on the death of her grandfather, Thomas. Going through his personal papers, his birth certificate revealed that his name was 'O'Houlaghan' and not 'Sullivan'.
The keeper of all the family stories, her Nan, had passed away a few years earlier; sadly, taking all the stories to her grave. Her father's story echoed this. His family name was thought to be 'Gargan', but on his death it was revealed that the person who he thought to be his sister was his mother and her pregnancy had been concealed by the family. Her father was mixed race, but the story and identity of his birth father had been lost; it was simply not talked about.
Meetings
It was a chance meeting -and brief collaboration in 2019- with Irish born, London-based artist Fion Gunn that first ignited the idea of Pamela fully exploring her past and family history. The themes raised in Gunn's Tate Exchange exhibition, Odyssey (personal journeys against a backdrop of global movements of peoples, cultures, materials and ideas) resonated with her own work. In particular, the idea of exploring the story of obstacles, hardships, errors of judgement and lessons learned as the ultimate metaphor for our human condition.  Sullivan's individual family story is reflected throughout the world. The hardships faced by her relatives in Ireland -leaving for a better future that was fraught with danger and hardships- is a story that is here in the present, happening all over the globe.
Working again with Fion Gunn on her solo show Arrivals/Departures, at the Victoria Gallery and Museum, Pamela found the ideas of displacement and journey were drawn in to sharp focus. Every day we see suffering as the migrant crisis develops across the globe. We're witnessing desperate families boarding boats in the hope of finding safety from war and famine.
Festival
This year presents the first time Sullivan will work with and exhibit with the Liverpool Irish Festival. The themes and ethos of the Festival resonate powerfully with her ideas. Pamela reflects: "Priding itself on developing and welcoming all communities and acknowledging the importance of revisiting, responding to and re-examining the past helps us to unpick legacy issues and overturn needless intolerance.  Never has this ideology been more important as we face unsettling times where hatred of difference is still prevalent in our society".
This ethos is at the heart of the work she will be exhibiting throughout the Festival. She will interpret the theme of 'hunger' not only as a need for sustenance, but about the hunger for change. Change to support the most vulnerable in our society -and globally- to be heard, seen and recognised.
Context
A starting point, Pamela has looked at these themes in an historic context. Beginning with the Irish Famine of 1847, the work considershow the Irish diaspora travelled across the globe to start new lives. That historic event in Irish and British history echoes, tragically, across the current migrant crisis faced today. People desperately trying to escape famine and conflict, travelling thousands of miles by boat, only to be met with indifference and hatred. It is a difficult story that people find easier to discuss in an historical context. However, Pamela intends to use it to discuss today's migrant crisis and how we can affect change.
Sullivan's work often pivots around the idea of lost identity and displacement. She moved many times in her early life, never fully feeling at home; always preparing to move and leave. Never feeling comfortable, even in her own skin; never really belonging. These themes all reoccur in her artwork. Displacement has echoed through her practice for 20 years, especially when considering where she will exhibit her work.
Nook and crannny spaces
Sullivan prefers unusual venues. Sullivan has exhibited all over the northwest; in derelict buildings, empty spaces, empty shops, building sites, St Luke's Church (also known locally as The Bombed-Out Church), Park Road Reservoir, and The Williamson Tunnels. She has created trails of artwork in trees, under benches, on walls and all over Liverpool town centre. Generously, Pamela leaves art works for people to find and take home, as well as and artwork attached to buildings for people to map and record on social media.
For Liverpool Irish Festival 2022 she will employ similar strategies. There will be a trail of art pieces to be discovered and mapped by the public. Employing her guerrilla approach to leaving work in unusual places for people to find, some will be fixed and some can be taken to be placed somewhere new. Some pieces may turn up in a gallery… Readers will need to look out… If you find one, you should take a photo, load it to social media and tag in @LivIrishFest and hashtag #LIF2022home
Conversations
To compliment this work there will be workshops for members of the public to engage with. Particpants will make their own pieces of work that can be added to the trail or taken home. There will also be talks on the ideas behind the work, the historic starting point and the need to address the current issues and crisis unfolding as people leave their own countries to escape war, famine and persecution.
"Whilst my artwork is out on the streets it is in a precarious position. It's not owned or part of a collection in a gallery. It belongs to everyone and no one at the same time".
Associated events (please note these may have passed)