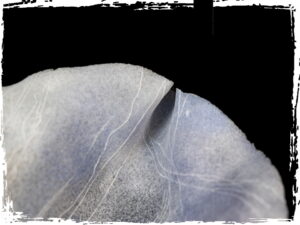 Continuing our annual In the Window partnership, the Bluecoat Display Centre, Design and Crafts Council of Ireland (DCCI) and Liverpool Irish Festival selected emerging glass talent Sophie Longwill as the 2021 featured artist.
This year's 'exchange' brief provided one of the largest responses to our open call, set against the backdrop of Covid-19. What made Sophie's work notable, was her exchange with Liverpool -via her sister- and this is embodied in the work. Below, Sophie explores the relationship between optical input and translation; materials and meaning; experience and storytelling. In her words, we travel to the heart of Sophie's fragile work; it's delicate, but fierce processes and the resulting representations that blend the ephemeral and untouchable with the creation of recognisable, tangible skies. In talking about the work, we visit her relationship with time and experience, central to many makers' ability to bend materials to harness and communicate ideas.
---
Glass skies
Our family joke is "where there is a Longwill there's a long way"; it really sums up my artistic journey. I tried a lot of different things before I fell in love with glass. I grew up in the countryside of County Kildare, surrounded by beautiful scenery and my lovely creative family.
My mum was a member of the local printmaking studio, Leinster Print, so I used to tag along. I was lucky that she -and other artists- were generous with their time and materials. I got to learn many different printmaking techniques, from a young age and began exhibiting my work professionally, aged 15. After finishing school, I went to the National College of Art and Design (NCAD, Dublin) to study Industrial Design, leaving the course when my father passed away.
In 2010, I went to Grennan Mill Craft School. A beautiful, converted mill in Thomastown (Kilkenny), I spent two years there learning a variety of traditional craft processes, such as batik, weaving, ceramics and metalwork plus more printmaking. I returned to NCAD where I did a double BA (Hons) in Glass and History of Art & Design, graduating in 2016.
Influences
Glass artists I love (and recommend) include Anne Petters (www.annepetters.com), who taught me many of the techniques I use; she's an incredible artist. The brilliant Caroline Madden (DCCI Portfolio artist) and Isabelle Peyrat (both at NCAD) were and continue to be big inspirations on my glass journey. There are hundreds of incredible Irish glass artists. For anyone interested, the Glass Society of Ireland (www.glasssocietyofireland.ie/) is the place to find us all!
Though my work has taken multiple forms, a common thread is capturing fleeting moments of everyday life. I love transforming ordinary or overlooked parts of life, adding a little sense of magic and wonder, because that is how I see the world. A bra hooked over the back of a chair… a text message from a loved one … a chance glimpse of sunset walking home… the world around me constantly inspires and influences my work.
Materiality
I adore glass as a material; not only for the limitless possibilities as a sculptural material, but for its strong material narratives. It is an intoxicating contradiction; neither solid nor liquid. It can be strong, sharp, confrontational or delicate, fragile, and ethereal. I love this duality, plus the challenge of working with it. After many years, I am constantly learning, pushing the material, and being pushed back.
My process incorporates elements from printmaking. I make moulds -flat like a printing plate- and carve in my designs. Instead of ink, powdered glass is pushed into the crevices. Once fired the lines are raised (as on an intaglio print) on the flat piece of glass. Fired again, I further manipulate it into a 3D sculptural form. I love the way this captures my mark-making and brings my drawings to life; an idea you can hold.
Sensitivity to colour and surface texture is vital. I am fascinated by the tension of tactility in artworks and the interaction between the viewer and object. Perhaps it stems from a childhood desperation to touch everything, in every gallery we visited, an impulse I still struggle to control! I give my glass works a raw 'dragon's teeth' edge, which gives the pieces a seductive, sensual fragility.
Inspiration
My current series Nubivagant (Cloud Wanderer) reflects my experience of the pandemic and a desire for breathing space. The series is inspired by beautiful skies and mindful moments on my lockdown walks. Living in Cork city centre, the sky connects with nature via an urban environment.
In preparation, I woke with the dawn every day for weeks (I am not a morning person!). As a starting point I take hundreds of photos; I spend time just absorbing and studying the light. I may work from one image or set of images; I often do watercolour paintings to get a sense of layers and colours, all the time considering my glass palette. "This underbelly of cloud is 10% cobalt blue, mixed with royal purple. That haze of sunlight is peach cream with a pinch of pink opal"… Soft colours are translated into delicate discs of pâte-de-verre (glass paste), allowed to gently fold in the kiln, resulting in vessels that suggest windows to other realms holding the serenity of the natural world.
Exchanges
As I developed the series and shared the work with friends and family, a beautiful exchange began to happen. People began to send me pictures of their skies from all around the world. The most frequent contributor was my sister, who lives in Liverpool. Every week we exchange pictures of our 'sister skies'.
As I work with the glass, I blend my impressions of our exchanged moments into the vessels. They become a way to express our stories and the feelings from this time that we cannot find the words for; the love and the longing. In everything I make I try to capture a sense of wonder; to transpose transient and intangible moments into visible, physical form. The delicate fragility inherent in glass as a material accentuates the impression of ephemerality and preciousness.
The flow
Once I get to making the glass it is very free. I aim to enter a flow state by listening to certain music and allow my hands to go to work. I carve patterns and lines into the moulds and mix concoctions of powdered glass to fill them. A lot of glass artists are very precise; I know that -really- I should be testing all my colours and taking notes, but I love to get in 'the zone' and play, seeing what magic happens in the kiln overnight. It doesn't always work; glass is tricky to work with, but when it does it is really special.
Individual vessels are not usually a direct interpretation of, say, one particular sky. I like them being open to interpretation. It may have a familiarity, but I'm not necessarily telling you exactly when and where it is. It's more about the sky representing that thrill of wonder at a beautiful moment in nature and feeling connected to something outside of ourselves. A sense of grace, perhaps? That's why the surface textures and play of colour are really important.
Juxtaposition
I am interested in the narratives of time within glass and the element of transformation. We use glass in our lives every day. It's so ordinary; humbly beginning as sand, yet able to be transformed into a material that has a sense of liminality. It is present and not present simultaneously; especially when worked in a fragile, delicate way. It is the perfect material to express feelings I don't have words for, to capture a moment in time or something otherworldly.
---
Sophie Longwill is based at the National Sculpture Factory nationalsculpturefactory.com
W: longwillstudio.com
F: @longwillstudio
T: @sophie_longwill
I: @longwillstudio
You can see Sophie's series Nubivagant (Cloud Wanderer) at Bluecoat Display Centre from 1-31 Oct 2021 during the gallery's opening hours. Works start at c.£300.
Bluecoat Display Centre is a nationally and internationally recognised contemporary craft and design gallery that has been established since 1959. It has multiple outreach projects and holds exhibitions across the year. Jointly, the Centre and the Festival are members of Creative Organisations of Liverpool.
Our combined thanks go to the Design and Crafts Council of Ireland whose direct support has enabled this exhibition.
Associated events (please note these may have passed)