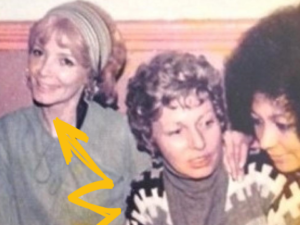 Maria Paul is a local arts practitioner and founder of Nwoko Arts.
Introduced to the Festival by long-term peer and friend, Peter Ward (Hope Street Theatre, Brouhaha International, Jewel on the Hill), Maria's play Sweet Mother touches on themes we have long been discussing in the Festival: mixed-race relationships, female visibility and the Liverpool experience. Here, Maria explores a little more about her direct relationship with these subjects, setting the context for Sweet Mother's production.
The play
The idea of Sweet Mother originally came about because of my own personal experiences; witnessed growing up with a white mother and Nigerian-born father, in the Liverpool 8 area.
My Mum originally came to Toxteth from Bootle, in her early 20's, after her older sister settled here. As a child I remember their mum (my Nan) coming to Toxteth to visit. When she left my Mum would be crying in bed for days. At the time I never understood why.
I never felt a sense of closeness with my Nan and she was always very distant with me and my siblings. I soon started to realise how disconnected my Mum's family was to us because they lived in Bootle, which at the time was a predominantly white area. It was as if my Mum's family had disowned her for living in Toxteth and having children to a black man. Although [their racism] wasn't something I was aware of at the time, I do remember that her side of the family never visited us. I later learned my Nan asked her to choose between the family or my father. As a child I was not aware of the racism that my mum endured because of who she fell in love with. I knew that she had brothers and sisters who lived in Liverpool, however I did not meet them until I was a teenager.
We did go to Bootle occasionally to visit my Nan, but she would never interact with us, so I didn't know what having a Nan felt like. Growing up I did not have a relationship with my aunties and uncles. I had my one aunty who lived close by and also had married a man of colour.  Growing up, I was very close to my aunty Nelly. I loved her so much. She was all I had in terms of extended family, in Toxteth, apart from my mother.
Toxteth was a mixture of all different nationalities.  Most of the mothers in my area had mixed-heritage children.  My mother and my aunty would go out on a Monday night to the Nigerian Club for a dance…they loved dancing and frequently had friends over, dancing the night away in the living room, putting records on repeat on the record player and singing along at the top of their voices.
Life was not all rosy with laughter and songs though. I remember the poverty that my mother and many others had to deal with. Back then the women stuck together and would support each other by lending each other money and even food, if needed. The women that I grew up with were strong and very resilient.
My mother brought six children up on her own. We did not venture far from Toxteth when we were growing up. We stayed in the community because it felt safe. Looking back it must have been hard for Mum; she was not educated in how to care for black skin and afro hair. She learned to cook Nigerian food and she adored African -rather than British- music.
As I got older, I really admired the resilience and strength of not only my mother and her sister, but the many other white women who lived in Liverpool 8 who I am honoured to know. Ultimately, I wanted to hear their stories and explore how they came to settle in Toxteth at a time of great racial and political unrest.
This then led me to creating Sweet Mother, a play that shares the stories of the white women who fell in love with Black men and resided in the Liverpool 8 area. I initially developed the basis of the play by conducting interviews with the woman. The main aim of the play for me was to convey the intimacy and truth of people's thoughts and experiences of their personal feelings towards issues that affect them.
On a whole the play considers how some women  gave up their white privilege, after facing abuse and discrimination from their own communities. It centres on shared experiences; lived across the1960-80s; featuring friendship, hunger for change and hope. The show features a capella singing, film and music. After the show sold out its premier (March 2020) at the Liverpool Royal Court Studio. I have decided to take it to Camden's People Theatre in London where it will be showcasing in October 2022.
Tickets £12/£10 conc.
Associated events (please note these may have passed)