Liverpool's cultural ties with Ireland come to the fore once again as the Liverpool Irish Festival returns, this year with special performances by The Guilty Feminist (in a dedicated festival podcast) and Kíla. We also celebrate a new partnership with Liverpool Literary Festival, the return of the Celtic Animation Film Festival and IndieCork and a new play by Lizzie Nunnery.
Taking place 18-28 Oct 2018 in venues across Liverpool, including Liverpool Everyman and Playhouse, FACT, Liverpool Philharmonic, St George's Hall, the Florrie and the Victoria and Gallery Museum, the programme, curated by Festival Director Emma Smith and partners, explores the theme of 'migration'. Artists, performers, musicians, writers and filmmakers explore the relationship between cultural identity and place and how Irish identity, in particular, is changing globally, affecting how we understand 'Irishness' in the 21st century.
The hugely successful podcast (30m+ downloads), The Guilty Feminist, comes to Liverpool Irish Festival as part of its In:Visible Women programme and for its first visit to the city. Comedian Deborah Frances-White records a live podcast in front of an audience at Liverpool Playhouse, discussing 21st century feminism and the paradoxes and insecurities which undermines it.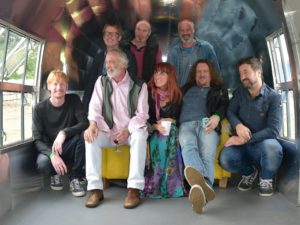 One of Ireland's greatest music acts, Kíla, come to Liverpool Arts Club for a tub-thumping, rip-roaring, freewheeling jig of a gig. Supported by Bill Booth, Kíla's eight members come from different musical backgrounds, including trad, classical and rock, which blend into the bands furiously energetic sound. It bristles with energy and passion and will be an unforgettable night.
At the Everyman Theatre, Lizzie Nunnery presents her new play with songs, To Have to Shoot Irishmen, exploring the events around the death of Francis Sheehy Skeffington during the Easter Rising in Dublin, 1916. Directed by Gemma Kerr (Hitting Town, Southwark Playhouse) and produced by Lizzie Nunnery's Almanac Arts, the play runs for three nights (25-27 Oct).
For the first time, Liverpool Irish Festival unites with Liverpool Literary Festival, celebrating the writers, both emerging and established, who continue Ireland's rich literary heritage. Events include Eamonn Hughes' fascinating exploration and reflection on his work with Van Morrison, navigating the songwriter's representation of Belfast. This is a joint event with The Institute of Irish Studies.  
At one of Liverpool's newest venues, OUTPUT Gallery, an artist will create a new work responding to the successful repeal of the Eighth Amendment of Ireland's Constitution, granting new body autonomy in Ireland. The exhibition will run for the duration of the festival part of the In:Visible Women strand.