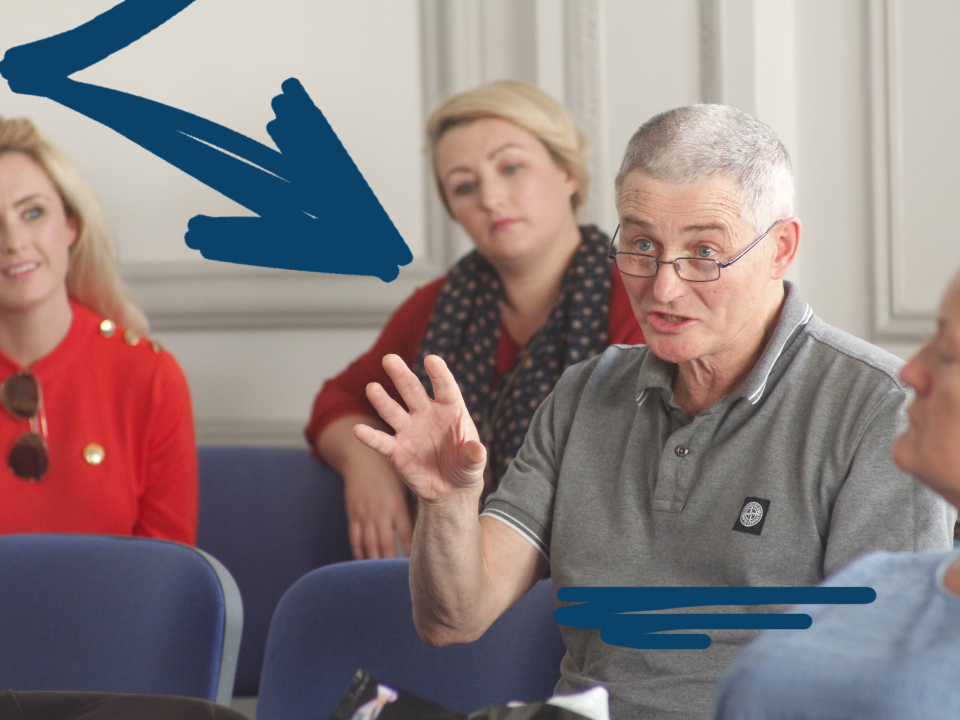 Announcing an Irish Language mini-library at Liverpool Irish Centre in Tony's honour.
In May, Conradh na Gaeilge Learpholl were proud to announce the installation of the Tony Birtill library. Located in the Liverpool Irish Centre's Heritage Room, the library honours our friend and teacher, Tony Birtill, who died in October 2021.
An Buachaill Beo (The boy alive); Tony Birtill remembered
Tony was a Gael through-and-through. He was an enthusiastic teacher of the Irish Language on Merseyside and a good friend to all those learning it. His life was interconnected with the Irish community in Liverpool, in every way. An ever-present face at Liverpool Irish Centre, Tony taught classes there every Thursday night, as well as being involved in the work of Liverpool Irish Festival (board member) and a committed historian of the area and its Irish links.
Book choices
Tony left a huge collection of books behind him. These books are only a selection of Tony's wide collection on the language, culture and history of Ireland, which we are glad to make available to the next generations of foghlaimeoirí (Irish learners) in Merseyside.
Conradh na Gaeilge's committee members spent a great afternoon choosing books from Tony's collection to include in his library. Narrowing them down was an incredibly difficult task and the challenge evoked lots of memories, laughter and comfort knowing we'll be able to make the books that were important to Tony available for people who have an interest in the language. Most of the remaining books went to University of Liverpool's Institute of Irish Studies library.
Tony's library contains a wide selection of books, including books for children, easy readers for adults and textbooks such as Learning Irish, Gaeilge Gan Stró, Enjoy Irish and Now You're Talking.
Accessing the library
From May 2022, readers have been able to borrow books for up to a month. There's no restriction on the number of books you can borrow. Publications can be readily accessed during Conradh na Gaeilge Learpholl Irish lessons, in the Liverpool Irish Centre (6.30pm-7.30pm, Thursdays). Alternatively, you can borrow them, at any time, outside the time of these classes. Simply ask a member of the centre's staff.
Get reading and keep the Irish Language alive in Liverpool! Leatsa an Teanga, léigh í (it's your Language, so read it!).
Siubhán Macauley
Associated events (please note these may have passed)
Tony Birtill memorial actions
Liverpool Irish Festival, Liverpool Irish Centre, Conradh na Gaeilge Learpholl (Conradh na Gaeilge Liverpool), The Institute of Irish Studies (University of Liverpool) and Oideas Gael have worked collaboratively to create a memorial package in memory of our friend, teacher and lifelong learner of the Irish Language, Tony Birtill.
Marking our first year without Tony, a Tony Birtill Memorial lecture will take place at Liverpool Irish Centre, with contributions from Liverpool Irish Festival, Conradh na Gaeilge Learpholl and distinguished Irish historian and traditional musician, Greg Quiery. More in our events listing.
Liverpool Irish Festival will provide a Festival pass for a duo to attend all the Festival's ticketed events, for free, ideally benefitting two friends for whom affording the tickets would otherwise be difficult. To apply, please email [email protected] or text +44 (0) 7804 286 145, with your name and contact details, referencing the Tony Birtill Memorial Festival pass. We'll nominate at random from those that submit a request on Mon 3 Oct 2022, contacting the winner thereafter.
The Festival will also donate a copy of its book Liverpool Irish Famine Trail: Revive to the Tony Birtill Library, along with any editions that follow in the Trail series.
Conradh na Gaeilge Learpholl, The Institute of Irish Studies (University of Liverpool) and Oideas Gael are additionally pleased to announced a new scholarship. The award covers the cost of an intensive adult Irish Language and cultural activity course at Oideas Gael (Glencolumcille, County Donegal), where Tony spent his summers teaching Irish and leading mountaineering walks in the local hills. The scholarship makes additional contributions to travel and accommodation costs.
Available to anyone resident in England, Scotland or Wales, applicants must demonstrate
a keen interest in learning the Irish Language at any level of ability
a commitment to the Irish speaking community in Britain
To apply, applicants will email no more than 500 words, in English or Irish, answering the following questions:
What does the Irish Language mean to you?
How would this scholarship help you in the pursuit of learning the language?
How do you intend to contribute to the Irish speaking community in Britain when you return from your course?
Answers should be emailed to [email protected] before Fri 31Mar 2023, for scholarship to the summer 2023 course.
Decisions will be made and communicated in April 2023, by a panel of members from The Institute of Irish Studies and Conradh na Gaeilge Learpholl. The panel will take into consideration reducing cost barriers for those otherwise unable to attend; geographical bias in award giving and impact of the Irish speaking community in Britain.
---
Tá scoláireacht nua ar fáil ó Chonradh na Gaeilge Learpholl, Institiúid Léinn Éireannaigh Learpholl agus Oideas Gael i gcuimhne ár gcarad, múinteoir agus duine mór le rá sa phobal Éireannach i Learpholl, Tony Birtill. Tá an scoláireacht seo mar chuid de phacáiste a chuirfear ar fáil ón phobal Éireannach i Learpholl in ómós dó.
Íocfaidh an scoláireacht seo as táille chúrsa Gaeilge de chuid Oideas Gael, i nGleann Cholm Cille, Contae Dhún na nGall, áit a gcaitheadh Tony a chuid samhradh ag múineadh na Gaeilge agus mar cheannaire ar an chúrsa sléibhteoireachta. Íocfaidh an scoláireacht fosta as cuid den chostas taistil agus den chostas loistín.
Beidh an scoláireacht ar fáil do dhuine ar bith atá lonnaithe i Sasanna, sa Bhreatain Bheag nó in Albain:
ar mhaith leis/léi an Ghaeilge a fhoghlaim ag leibheál ar bith
agus atá tiomanta do dul chun cinn phobal na Gaeilge sa Bhreatain.
Cuirtear fáilte roimh iarratais i nGaeilge nó i mBéarla. Seol 500 focal i ríomhphost chuig [email protected] roimh 31 Márta 2023, ina bhfreagraítear na ceisteanna thíos:
Cén fáth a bhfuil an Ghaeilge tábhachtach i do shaol?
Cén dóigh a bheas an scoláireacht seo cúidiúil, agus tú ag foghlaim na Gaeilge?
Cén dóigh a gcuirfidh tú saol na Gaeilge i mBreatain chun cinn i ndiaidh an chúrsa?
Déanfaidh foireann agus deonaigh ó Chonradh na Gaeilge Learpholl agus ón Institiúid cinneadh i mí Aibreáin. Déanfar machnamh ar chostas ar dhaoine agus tionchar ar phobal na Gaeilge sa Bhreatain.