Address
Sefton Park Palm House
Liverpool
L17 1AP

seftonpark.palmhouse
The_Palmhouse
More Info
Orginally built in 1896, Sefton Park Palm House is a jewel in the crown of Liverpool's parks. Free to enter day-to-day, the Palm House also provides a range of activities people to engage in. Sefton Park Palm House Preservation Trust is a registered charity, set up in 1996 to manage Sefton Park Palm House. Prior to that a committee worked closely with Liverpool City Council to bring together the final stages of a significant restoration campaign, which delivered a fully operational glass house for tropical plants.
As well as being a popular destination for botanists, tourists and locals, Palm House runs a year round programme of events to inspire and entertain, which you can find using this link.
Bus route Take the 75 from Elliot Street (stop GB) to Halkyn Avenue (Stop A). Walk back on the direction of travel and cross Ullet Road, turning left along Halkyn Avenue. When you meet Croxteth Drive turn right and take the first foot path in to the park. Follow this until your reach the Palm House.
Map link: goo.gl/maps/pMXeddZw2Y3bVyXA8
Closest train station Lime Street Station
Walk from Lime Street 58-minute walk via Lime, Renshaw and Berry Streets to Upper Duke Street. Travelling uphill stay on this road, crossing Hope Street on to Canning Street.  Turn right on Catharine Street, crossing on to Princes Road. Keep walking until you meet Princes Park Gates and carry on through the park keeping the lawns to the right. Exit on Windermere Terrace on to Sefton Park Road. Follow to Aigburth Drive and enter the Sefton Park on Croxteth Drive. Walking through the park head to the Eros Fountain and follow signage to Sefton Park Palm House.
What Three Words nasel.haven.older
Phone +44 (0) 151 726 9304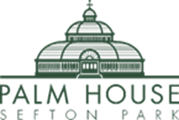 Upcoming Events
No events in this location