We have rolling vacancies for trustees, including a Treasurer (more details further on), on our Board. Can you help us find new members? Are you interested in becoming involved?
The Liverpool Irish Festival (LIF) brings Liverpool and Ireland closer together using arts and culture. It delivers a diverse, high quality and often ground breaking programme each October. LIF is a charitable company, whose Directors are its Trustees.  These volunteers, come together as a Board to lead the charity and decide how it is run. LIF's current Board aims to recruit skilled, experienced and enthusiastic individuals to come and join our current Trustees to guide and support the organisation through its next exciting phase of development.
LIF recognises that in society people have been -and continue to be- discriminated against on the basis of race, colour, national origin, culture, gender, marital status, disability, class, being lesbian or gay, age, political or religious beliefs, medical status and responsibility for dependants. LIF wishes to encourage all sections of the community to participate in its activities. Trustees will have strategic vision, independent judgement and a willingness to give time and commitment to the Liverpool Irish Festival. Ideally new trustees will have experience of the cultural sector, a familiarity with Liverpool Irish arts and culture and/or skills in digital applications.
Trustee roles are unpaid and requires a time commitment of, on average, half a day per month. This includes attendance at the Board and sub-committee meetings, Board development workshops and strategic planning events. The meetings generally take place in the early evening.
Our current Treasurer is retiring and so we are also looking for a replacement who will put their finance skills to good use by becoming a charity trustee. The Treasurer will monitor, review and report on the financial aspects of the Festival and help to ensure its sustainability. Working with the Festival Director and its accountants you will ensure the Festival's financial affairs are legal, constitutional, and within accepted accounting practice.
We have provided a full Policy Pack and our Articles of Association.  Attention is drawn to the following sections of the Policy Pack:
Board background (also available here) – Page 8
Code of Conduct – Page 12
Corporate Governance – Page 4
Eligibility and Declaration of Interests Forms – Page 48
Person specification – Page 5 (and below)
Terms of Reference – Page 9.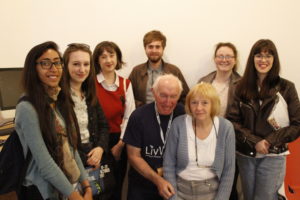 Applications to become a member of the LIF Board should be made by submitting your CV and a one-page letter describing how you meet the criteria. Submissions will be understood to have read the items outlined above. Please email these to [email protected].
Trustee Person Specification
Each trustee should have (* denotes 'desirable')…
Skills and abilities
Communication skills
Financial skills*
IT skills*
Ability to think creatively
Expertise in business*
Ability to work effectively as a member of a team and to take decisions for the good of the Festival
Ability to apply the principles of selflessness, integrity, objectivity, accountability, openness, honesty and leadership.
Knowledge
Knowledge of arts/creative sector
Knowledge/awareness  of the Liverpool Irish community
Knowledge/awareness of historical/heritage/cultural issues
HR expertise/knowledge*
Understanding and acceptance of the legal duties, responsibilities and liabilities of trusteeship.
Experience
Previous Board experience, particularly in the charitable, arts or voluntary sector*.
Personal style and behaviour
Commitment to the organisation
Willingness to devote the necessary time and effort
Creativity/inspiration/Strategic vision
Good, independent judgement
Willingness to speak their mind.
The Treasurer will monitor, review and report on the financial aspects of the Festival and help to ensure its sustainability. The Treasurer works with the Festival Director and LIF's accountants to ensure that the Festival's financial affairs are legal, constitutional and within accepted accounting practice.
Generally the Treasurer helps trustees carry out their financial responsibilities by:
presenting financial reports to the board in a format that helps the board understand the charity's financial position
sharing a financial report at each Board meeting
advising the board on how to carry out its financial responsibilities
liaising with professional advisors
managing financial risks
overseeing the preparation and scrutiny of annual accounts that give a true and fair view of the financial affairs of the company
when necessary, taking on some financial duties, such as book-keeping, budgeting and preparation of reports and funding bids.
The Treasurer files the annual report and accounts with Companies House and completes the annual return for the Charity Commission.