Liverpool Irish Festival is a proud signatory of the Liverpool arts and culture race equality manifesto, outlined here.
Last year TG4 joined us as a sponsor. We had so much fun with them that this year we decided to amp up the work and collaborate on two specific music events: Visible Women and Gradam Ceoil (Music Awards), both taking place at the Liverpool Philharmonic Music Room. Showcasing some of the most outstanding talent Ireland has to offer, TG4 are becoming known for their visionary approach to Irish language broadcasting, inclusion and accessibility. This assists not only with storytelling and talent development, but also keeping communities linked and connected with home. Below, TG4 tell us more about Gradam Ceoil and what it means to them …
TG4 are excited to work with #LIF2019 and specifically to present a very special concert (full details below) with some of the world's most accomplished Irish traditional musicians, Conor Connolly, Clare Friel and Liam O'Brien, who have each been awarded the Young Musician of the Year award at Gradam Ceoil TG4 in 2019, 2018 & 2017 respectively. 
Gradam Ceoil TG4 is the premier annual traditional Irish music awards scheme and academy. An independent panel of adjudicators selects recipients each year. Known as the 'Oscars of Traditional Music', national Irish language broadcaster TG4's Gradam Ceoil awards are broadcast annually, with a live concert and ceremony, shining a spotlight on the crème-de-la-crème of traditional music and song, featuring musicians being recognised by their peers, with awards for their talent and contribution to traditional Irish music.
This special concert in conjunction with the Liverpool Irish Festival will bring a taste of Gradam Ceoil TG4 to Liverpool, showcasing three of the most exciting musical talents to come out of Ireland in recent years.
Conor Connolly hails from South Co. Galway. One of the most traditional and solid accordion players of his generation, he is an inspiration to many. An accordion player and singer, his music and song is rooted in his home county, with some of his main influences being Joe Cooley, Charlie Harris, P.J. Conlon and Tony Mac Mahon. His playing is full of heart and soul, with a great understanding and respect for the tradition and the players he learned from. Having played with some of the most renowned traditional musicians we have today, he is well respected by them and highly regarded amongst his peers. H ewon Young Traditional Musician of the Year, 2019.
Doireann Ní Ghlacáin hails from Dublin and is currently undergoing a PHD in Irish at NUIG.  Her thesis is based on the sean nós songs of the Muskerry Gaeltacht, many of which were reintroduced into the modern tradition by her maternal grandfather, Seán Ó'Riada. Although an accomplished sean nós singer, having won many prestigious awards such as that of Oireachtas na Gaeilge, Glackin is better known for her fiddle playing.  She learnt the fiddle from her father Kevin Glackin and has gone on to bring her music to the world stage in recent years.  She has also performed on major traditional music broadcasts such as HUP, Béaloideas Beo and -of note- Tradfest TG4 a series, which she also presents.
Liam O'Brien is from Miltown Malbay. He was brought up in a very musical family. After starting on the tin whistle he went on to take up the concertina and attended classes with Noel Hill for many years. Liam then went on to study Irish Music & Dance in the University of Limerick. He has now travelled the world playing and teaching. He has been all across Europe, Africa and spent the summer of 2012 touring Japan. Liam also teaches concertina and banjo as part of the Brid O'Donohue School of Music where his popularity grows and grows. He won TG4 Young Traditional Musician of the Year in 2016.
As well as this outstanding concert, the three artists will share their talent with a pool of budding musicians in a set of free masterclasses, hosted as part of the Liverpool Irish Festival. Each will provide a bespoke workshop in fiddle, accordion and concertina, giving a select number of participants an opportunity to hone their skills under the guidance of these top class performers. Numbers are limited. To apply please email [email protected] quoting 'TG4Masterclass', providing your name, chosen session, skill level and key objective for the session.
If you are interested in attending the annual Gradam Ceoil TG4 awards, they will be presented at a live-televised gala concert at The Waterfront (Belfast) in Feb 2020, 9.00pm. You can make a full weekend of it, too, as a dedicated Gradam Fringe Festival brings Belfast alive in song, with a host of free music events and workshops taking place in various locations across the city. This event is not to be missed if Irish traditional music is your thing!
For more information, or to watch previous Gradam Ceoil TG4 awards ceremonies, go to www.gradam.ie and or follow us on Facebook and Twitter @GradamCeoil #GRADAM. 
Tickets for the Gradam Ceoil TG4 at Liverpool Philharmonic Music Room on Tues 22 Oct are available from the venue direct liverpoolphil.com
We have a full programme of Gradam Ceoil TG4 events …
TG4's Gradam Ceoil: An Irish Trad Night 22 Oct, 8pm-10pm, Liverpool Philharmonic Music Room. Doors 7.30pm
Gradam Ceoil masterclass: accordion 23 Oct, 12-1.30pm, Liverpool Philharmonic Dining Rooms
Gradam Ceoil masterclass: fiddle, 23 Oct, 1.30-3.00, Liverpool Philharmonic Dining Rooms
Gradam Ceoil masterclass: concertina, 23 Oct, 3-4.30pm, Liverpool Philharmonic Dining Rooms
Liverpool's cultural ties with Ireland come to the fore once again as the Liverpool Irish Festival returns, this year with special performances by The Guilty Feminist (in a dedicated festival podcast) and Kíla. We also celebrate a new partnership with Liverpool Literary Festival, the return of the Celtic Animation Film Festival and IndieCork and a new play by Lizzie Nunnery.
Taking place 18-28 Oct 2018 in venues across Liverpool, including Liverpool Everyman and Playhouse, FACT, Liverpool Philharmonic, St George's Hall, the Florrie and the Victoria and Gallery Museum, the programme, curated by Festival Director Emma Smith and partners, explores the theme of 'migration'. Artists, performers, musicians, writers and filmmakers explore the relationship between cultural identity and place and how Irish identity, in particular, is changing globally, affecting how we understand 'Irishness' in the 21st century.
The hugely successful podcast (30m+ downloads), The Guilty Feminist, comes to Liverpool Irish Festival as part of its In:Visible Women programme and for its first visit to the city. Comedian Deborah Frances-White records a live podcast in front of an audience at Liverpool Playhouse, discussing 21st century feminism and the paradoxes and insecurities which undermines it.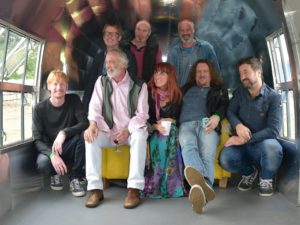 One of Ireland's greatest music acts, Kíla, come to Liverpool Arts Club for a tub-thumping, rip-roaring, freewheeling jig of a gig. Supported by Bill Booth, Kíla's eight members come from different musical backgrounds, including trad, classical and rock, which blend into the bands furiously energetic sound. It bristles with energy and passion and will be an unforgettable night.
At the Everyman Theatre, Lizzie Nunnery presents her new play with songs, To Have to Shoot Irishmen, exploring the events around the death of Francis Sheehy Skeffington during the Easter Rising in Dublin, 1916. Directed by Gemma Kerr (Hitting Town, Southwark Playhouse) and produced by Lizzie Nunnery's Almanac Arts, the play runs for three nights (25-27 Oct).
For the first time, Liverpool Irish Festival unites with Liverpool Literary Festival, celebrating the writers, both emerging and established, who continue Ireland's rich literary heritage. Events include Eamonn Hughes' fascinating exploration and reflection on his work with Van Morrison, navigating the songwriter's representation of Belfast. This is a joint event with The Institute of Irish Studies.  
At one of Liverpool's newest venues, OUTPUT Gallery, an artist will create a new work responding to the successful repeal of the Eighth Amendment of Ireland's Constitution, granting new body autonomy in Ireland. The exhibition will run for the duration of the festival part of the In:Visible Women strand.